Team Spotlight: Ondria T.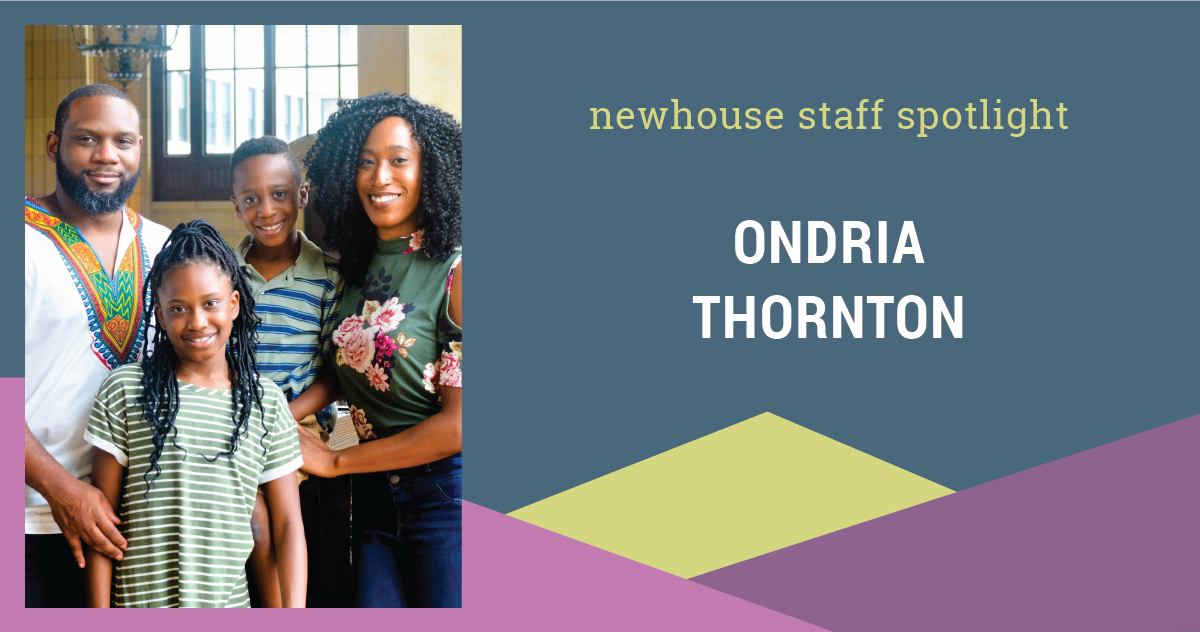 As a Newhouse Adult Therapist, Ondria Thornton lives out her passion for breaking the cycle of domestic violence every day. Her connection to domestic violence from an early age has sparked a meaningful career partnering with Newhouse residents to transform their lives. Meet Ondria. 
Her Newhouse connection
The power of the Newhouse mission is personal to Ondria. She grew up as the oldest of three children in a single parent home. Her mother was involved in an abusive relationship, and she sought safety at a domestic violence shelter. "Through that process, my mother received support, help and resources," she shares. "She was able to get back on her feet, live independently, and move to our house." 

Ondria has always had a passion to help people. In college, she discovered social work which spoke to her values and caring spirit. She began her social work journey at Newhouse five years ago, when she was hired as a case manager. Since then, she has achieved her graduate degree in social work and moved into her current role as an adult therapist.
Her Role
As an adult therapist, Ondria uses her firsthand experience of domestic violence's effect on families and children to heal.
"I partner with them as they discover and rediscover their own healing journey."
 
Working at Newhouse has afforded her an opportunity to work with many people with different backgrounds.
"I am able to help clients heal from traumas, whether those traumas are domestic violence, substance dependency or childhood traumas," she says. "I'm very fortunate to be a part of someone's transformation in healing." 
Newhouse's approach to therapy 
One of Newhouse's core values is survivor-centric innovation. Newhouse utilizes several different therapy interventions, one being DBT or dialectical behavior therapy.
"This intervention helps teach clients valuable coping skills — emotional regulation, mindfulness, distress toleration, interpersonal effectiveness," Ondria explains. "They can take these skills and apply it to different areas of their lives. They can use these skills at any moment." 
Ondria most enjoys seeing her clients not only master their skills, but also teach skills to their children — which she believes is the ultimate sign of breaking the cycle.
"I get to see the transformation," she says. "When you first see a client, they are at their lowest. They are escaping a dangerous situation and their future is uncertain. They don't know if they can trust. But here, they learn to gain trust, and hope, and self-confidence. Their vision for the future changes. They transform themselves, and then they transform their individual families. 
Her favorite part about Newhouse 
In addition to interacting with clients and seeing their transformation, Ondria values the team at Newhouse. "I love to see my coworkers play a part in client transformation. We truly work as a team. Everyone has such great respect for each other. We have a shared mission and vision … what we're doing is changing lives."
What brings her joy outside of work
Ondria values her family — she has been married for 12 years and has a son and daughter. She loves being there for her family, community and church family.
Her hidden talents 
Ondria knows how to play guitar and also loves to paint. "It helps bring mindfulness and centeredness for me."
Newhouse in one word 
"Transformative," she smiles. "Just look at the history of Newhouse; they started in a little itty bitty house. Now we have a building with 88 beds to serve the community. Our future is bright. We are not just transforming the lives of the people we serve, we're transforming as an agency, too." 

Thank you, Ondria, for being a dedicated member of Team Newhouse. We're grateful for the talent and passion you bring to our mission every day.