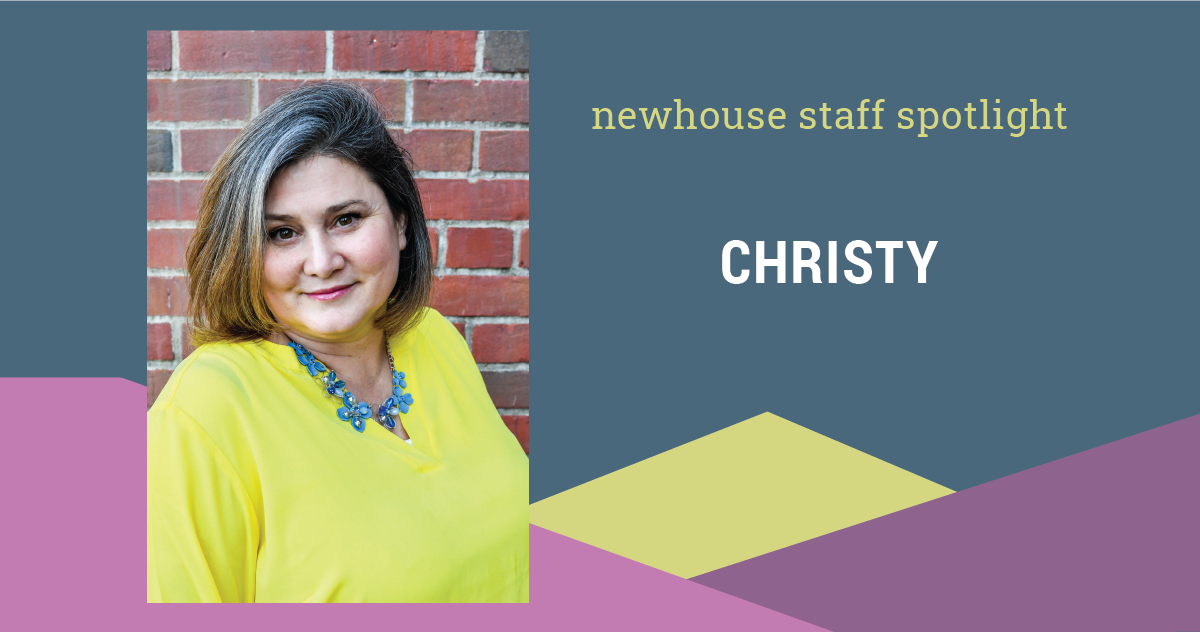 Christy helps turn Newhouse's dreams into reality every day. As Vice President of Program Funding, Christy's role is to locate funding to enhance and expand Newhouse's services.
Newhouse Connection
Christy's passion for serving others began at a young age. She grew up in a family that was passionate about philanthropy. She remembers that while her parents might not have had a lot, they raised money for causes and were very involved in lobbying for farmers. This exposure at a young age inspired Christy to seek a career in nonprofit.
After completing her law degree and a masters in nonprofit, Christy began working with the Homeless services coalition. Here, Christy dove into understanding the Kansas City homeless community and examined the root cause of why many families in the Kansas City area are houseless.
Christy's Role
As Vice President of Program Funding, Christy brings Newhouse's vision to reality by locating funding.
"I help bring the vision that others have for enhancing and expanding the services we have into a reality."
Christy encourages individuals, corporations and foundations to partner with Newhouse on their journey to create new programming, enhance Newhouse's mission and save lives.
"Domestic Violence is a community issue It takes partnerships and collaboration to create safer families and safer communities."
Importance of Community
"When you look at it from the clinical perspective, the staff on the frontlines, they see the worst of humanity. Broken homes, broken beliefs, broken dreams, broken hearts and broken bones," she says.
To Christy, community represents the best of humanity. Christy is able to see volunteers, community supporters, partners and Newhouse staff come together everyday to become a shelter of helpers. This community heals hearts while helping build confidence, new dreams and homes.
The community also benefits from the support of Newhouse. According to a major study on cities regarding the impact of Domestic Violence Shelters on the city, for every $1 invested in a Domestic Violence Shelter, there was a $7 to $18 return in value to the community.
"Behind every statistic is a human being, a person with hopes, dreams and a family. Then suddenly they are in a situation they are trying to escape."
Shelters like Newhouse that operate as a hotline and shelter allow people experiencing Domestic Violence to escape before a crisis and get help sooner.
Favorite Part About Working for Newhouse
Christy's favorite part about working for Newhouse is the people.
"It takes a special individual to work in Domestic Violence. It's not just a job, it's a passion, a belief." 
Christy and the Newhouse team are united behind Newhouse's mission. However, they still find time to make each other smile by playing jokes on each other or sending funny texts. Christy feels fortunate to work with such an amazing team.
Outside Of Work, What Brings You Joy?
Christy's two children are her whole world. She loves to make memories with her family while exploring Kansas City. She enjoys finding hidden gems such as street art, museums and historical homes.
Describe Newhouse In One Word
Christy would use the word, "believe" to describe Newhouse because Newhouse believes in the work they do, the impact they have and the people they serve.
Christy also loves to travel and keeps a list of places she would like to see. At the top of her list is seeing the Northern Lights.
Newhouse could not continue to enhance their mission without Christy's hard work. Thank you Christy for continuing to advocate for Newhouse! To learn more about Team Newhouse, take a look at our staff spotlights.