Team Spotlight: David Navarro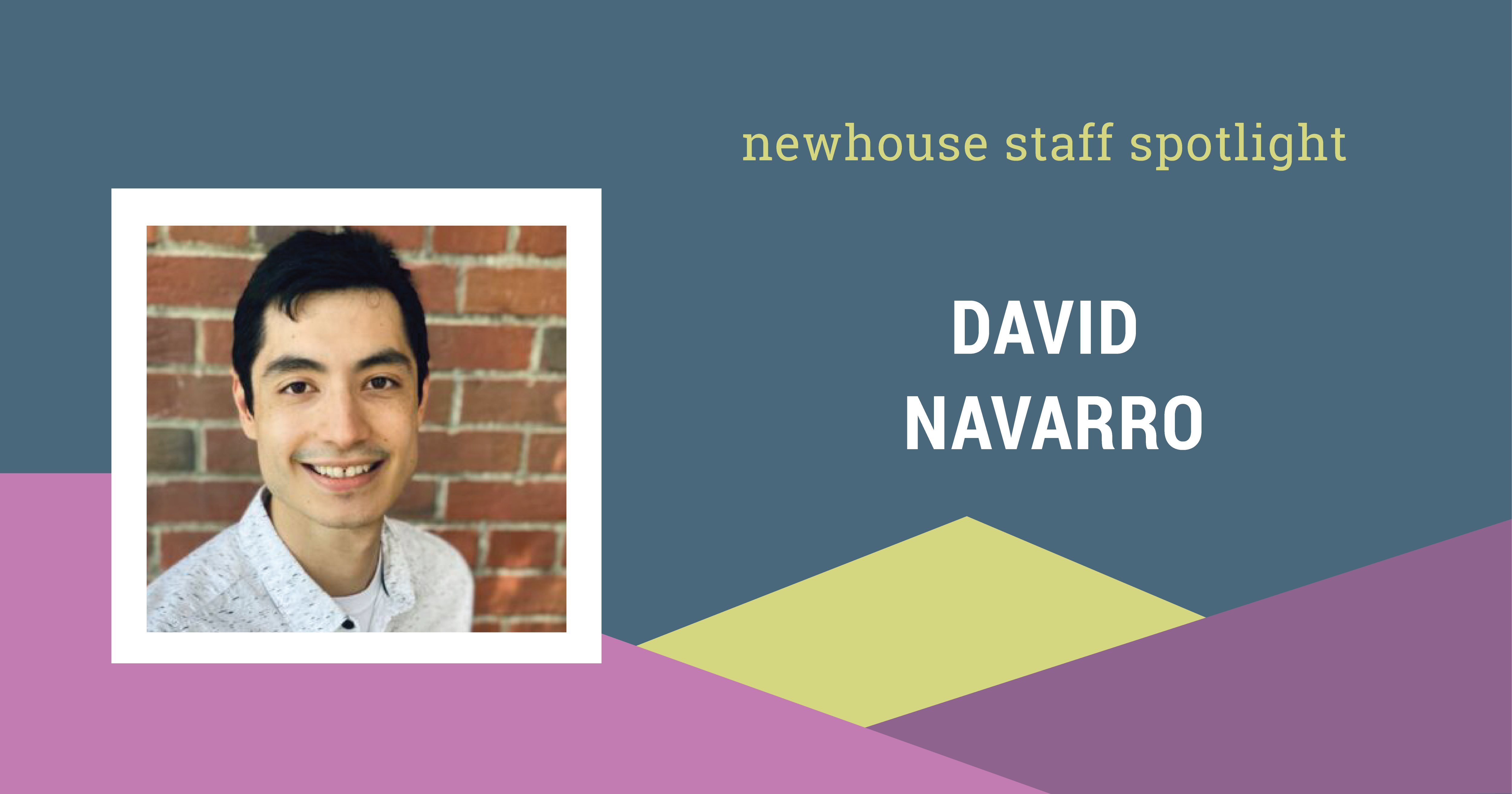 A hero of hope
For David Navarro, his Newhouse story is full circle. As Bilingual Case Manager + Client Care Coordinator, he equips survivors on their healing journey. And, he's uniquely positioned to serve the clients and kiddos at Newhouse. "I've been here and I know what it's like. I know what I need to do and deliver." Meet David. 
Newhouse Connection
A son of Mexican immigrants, David was born and raised in Kansas City. After attending Metropolitan Community College, he earned his bachelor's degree in psychology from the University of Missouri – Kansas City. Then, he joined Team Newhouse as Bilingual Case Manager & Client Care Coordinator. 
David's Newhouse connection is personal; he spent time at Newhouse's shelter as a child. "I've walked these halls," he says. "I've been there, and I know what it's like. 
Watch David share more of his Newhouse story in the 2021 Newhouse Gala video below. 

His role at Newhouse 
As a bilingual case manager, David is the first support and service of survivors when they enter shelter. 
"More than anything, it's all about trust," he says. "Survivors have been in situations where there was no trust. I build trust with the clients so they can trust me with their confidential information, social history, and so much more." 
David helps survivors feel seen, known, and supported. Together, they navigate through common barriers like getting prescriptions, accessing clothing, creating resumes, showing up to job interviews, and much more. The ultimate goal is to transition survivors out of the shelter into a permanent solution with self-sufficiency. With his client care coordination role, David also assists non-resident clients secure housing.  
"We are the source of support and service. We are a constant for them." 
His favorite part of working with Newhouse
"Working for Newhouse hits so deep. I am lucky."
"When I was a kid at Newhouse eating at the lunch table, I always wondered about the staff sitting around me. 'What is their life?' Now, that staff person is me." 
"Working for Newhouse is an experience like none other. I'm so very proud to be part of Newhouse. Now I'm here to help my clients. I get to tell mothers that they are in a safe place. They are okay. Nothing replaces that feeling for me," he says. 
On Newhouse transformation
Over the past year, Newhouse has been in the process of physically transforming our facilities. "When I was at Newhouse, I didn't feel comfortable with the community shower. Now, new families don't have to worry about that any more with the individual showers. It brings more comfort and security. Newhouse can be more like a home." 
David also appreciates the transformation happening on the team level. "Cecil [Wattree, Clinical Director of Adult Programs] has helped us deliver what we need to help with the clients. We have goals, objectives and a plan … we're all on the same page and tracking progress. I really appreciate my team!" 
Newhouse in one word
"Hope — without a doubt," he says. "We're trying to give hope to our clients. That is something they are needing and seeking. We are giving them hope for a difference, a better path, and a life outside of domestic violence." 
His joy outside of work
David enjoys TV shows and reading comics – especially superhero stories and novels. "Superhero stories have a similar mission to Newhouse," he says. "They are giving hope.  No matter someone's background, demographics, education, etc. We can come together and help people. I love seeing those stories in the media." 
"Heroes go through hard times and bring hope." 
Now what can I do? 
"I've been through this, now what can I do?" is David's approach to domestic violence's role in his life — from experiencing it as a child to helping survivors in his profession today. 
"I never thought in a million years thought I would be here. I could actually be the staff member. I can affect the community from what I've been affected by." 
David encourages anyone else who has gone through a difficult time in their life to reframe their narrative and focus on the change they can channel through their experience. 
"When you offer a service to a client, you – you have empathy and drive," he says. "There is nothing that can be more fulfilling than that. What a gift."
---
We are so grateful for David for being a hero who gives hope at Newhouse. Thank you for  serving survivors and their families with compassion and care. To meet other members of Team Newhouse, please click here.