Staff spotlight: Laveeda Simmons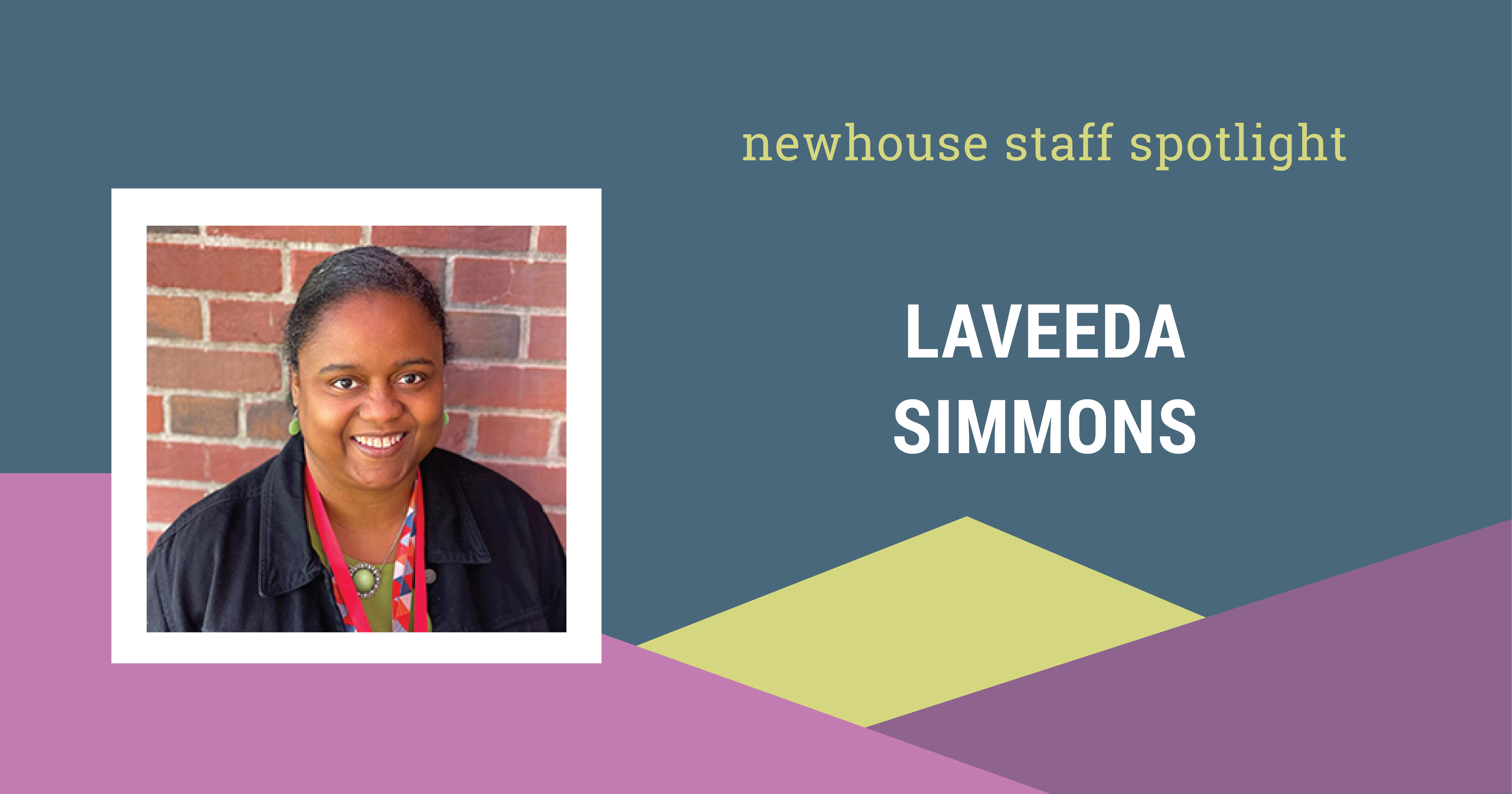 LaVeeda Simmons is Newhouse's Lead Children's Therapist. She leads her team and clients with grace, stability and compassion. We asked LaVeeda a little bit about how she got into this work, her role here and what she sees is the current need for children coming out of domestic violence. Meet LaVeeda.
Her connection to Newhouse
Originally from East St. Louis, Illinois, LaVeeda decided to pursue a degree in social work and family & consumer science, with an emphasis on child development, at Pittsburg State University in Pittsburg, Kansas. After completing her undergrad, LaVeeda moved to the Kansas City area and enrolled in graduate school at the University of Kansas.
From there, LaVeeda dove into social work in the KC metro area and started working in the social services sector where she did case management for the homeless and those in transitional housing. LaVeeda always had the intention to work with children and families in some capacity, and began work primarily with children who were in high needs. She helped with integrating the vulnerable kids back into the community after homelessness.
Her clinical supervisor at Newhouse, Grey, approached LaVeeda with an offer to help build the clinical team at Newhouse. Excited about the opportunity, LaVeeda accepted the role in April 2022.
"Newhouse provides so many resources to their residents from washing their clothes for free to school services for themselves and childcare for the little ones," she says. "Whether a family is in need of transportation or legal support, we find a way to aid them in any way we can."
Why social work?
LaVeeda's aunt worked in the social services field and inspired her to pursue a career in it. She also realized how much a supportive village affects a child's life.
"I had support with things in my life where I needed guidance," she says. "I had a village to surround me, [but] I noticed some of my peers did not have access to that village."
LaVeeda enjoys helping children at Newhouse understand what they are going through is temporary and they need someone to come alongside them to help figure out how to move past it.
"We're not trying to tell the child to just get over it —no one has the right to say that. We're helping them work through it."
Her Role Lead Children's Therapist
LaVeeda's primary responsibility is to provide individual and group therapy sessions for children. Therapy sessions are normally done within the family units so that there is support for the high-level needs of the children.
There are different methods with kids — talk therapy, psychotherapy, play therapy and field trips —the purpose is always to interact and build relationships with them first. LaVeeda is currently working on building a play therapy room.
LaVeeda also spends time in Newhouse's Early Learning Center when she provides support to the ELC team with behavior management and crisis intervention.
Because of her work with children and families, LaVeeda also provides some case management to the children and parents. She will help connect clients with community resources and support the adult team as needed.
What she wishes the community knew about domestic violence
"When clients arrive at the shelter they don't have an immediate feeling of safety – both mentally and physically. It takes time," she says.
"Kids are having to navigate unwanted anxiety wherever they go. Whether it's on a school bus or at school, they could be dealing with social anxieties and the fear of potentially getting bullied," she explains. "Then there are the anxieties of starting at a new school or activity, will they be able to make any friends? Parents have similar anxieties about whether their children will feel comfortable at school, and whether or not they will find some community."
"When they are here at Newhouse — their entire life has to shift."
Her joys beyond work
LaVeeda finds the most joy from spending time with her husband and three kids. From watching movies together to spending time outside, and playing games as a family … anything involving getting everyone together is her favorite.
LaVeeda has three children, and works hard to provide a village of support and opportunities for them. She says her youngest, who was born with special needs related to Prader Willi syndrome, teaches her about the concept of "A Brand New Day" in the ways she interacts with family and community members. This gives LaVeeda a whole new mind set of what unconditional joy and peace look like.
Working in the domestic violence space, LaVeeda would love to continue the work Newhouse is providing to bring this "Brand New Day" mindset to her clients. A new way of living, trading fear for peace and joy.
Newhouse in one word
"Empowering. It reminds me of how blessed I was to be able to move beyond my life circumstances. And having the support I had. I was empowered to go to college, work, and to provide the best services I can for children & families."
"Statistics show that families who have been a victim of family violence tend to go back to their abuser. They often don't feel empowered to do life on their own. But when they have healthy support, the families begin to take charge of their life and their experience — making it possible for them to take steps beyond the trauma."
—
Many thanks to LaVeeda for sharing her story, and for her commitment to survivors at Newhouse. Meet more members of Team Newhouse here.