Staff Spotlight: Brittany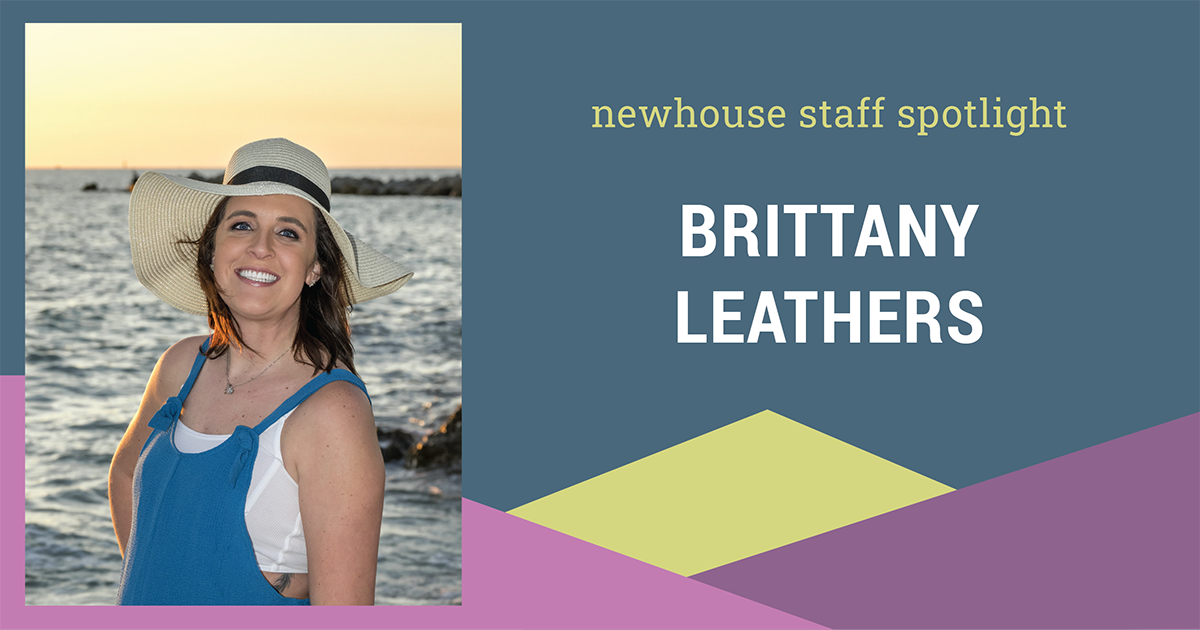 Meet Brittany!
Brittany is our Chief Education + Enrichment Officer and spends every day making life better for our children and families. She leads kids, parents and staff in our Early Learning Center, oversees the 10-week summer camp and so much more. In almost two years at Newhouse, she does incredible work to make the children and families who stay at Newhouse have educational enrichment.
Leading the Early Education Center (ELC)
In her role, she does a little bit of everything for our children and parents, which keeps the job exciting. She supervises and helps our teachers in the ELC and provides school support to families, including enrollment, working with schools for support services, tutoring, virtual school support, and more.
She also helps teach parents and caregivers new parenting skills by utilizing Conscious Discipline. She is working on creating those lasing partnerships to create experiential, hands-on activities for our child. Brittany also plans our monthly family event and offers lots of enrichment activities for survivors of all ages.
Summer Camp
Summer is a special time for the children at Newhouse, just like any kids. Brittany runs a 10-week summer camp for children filled with field trips, pool days, crafts, and activities. She loves to camp so much that she is growing it each year to be longer and include more activities! She works closely with our Lead Children's Therapist, Mrs. LaVeeda, to support families in whatever way they need it.
Why Work with Survivors?
"I love the children I get the honor or working with every day. Watching the children grow and learn to have a voice is so rewarding! Children need someone in their corner, and I love being that person."
"Every child needs a champion. They need someone to fight for them, support them, and just love them. I love being able to help children experience positive relationships and build that connection with them. I am passionate about making that lasting change and breaking the generational cycle of abuse."

– Brittany
What Everyone Should Know About Survivors
"Domestic violence can happen to anyone. It knows no bounds, and just because someone looks like "everything is fine" on the outside – that doesn't mean it is. It also can show many forms and isn't always physical abuse. Unfortunately, we don't always know what happens behind closed doors, so it's important to always be kind."
What She Tells Survivors
I am so freaking proud of you. No one deserves to experience what you've experienced, but I want you to know you have a support system. You are a beautiful human and worthy of love.
What Brings Her Joy
She "loves spending time outside, whether playing sand volleyball, testing new recipes in the smoker, golfing or just hanging on the back patio. I enjoy going to sporting events, whether it's professional or watching my partner's son in high school. I also have two beautiful nieces and love spending time with them!"
Love Working with Kids?
We're hiring! Our team is growing in the ELC and if you are someone who loves working we kids, reach out to us! Email Brittany today!
***
Thank you, Isabel, for serving survivors at Newhouse through your gifts and talents.